Welcome to Maple View Campground.
We have a new weekender section, all sites are pull thru, each sites are 40 x 60 with the 3 services
We also have a new seasonal sites section, all sites are at least 50 x 60 feet with the 3 services
Our 2020 season will start on May 1st and finish on October 18th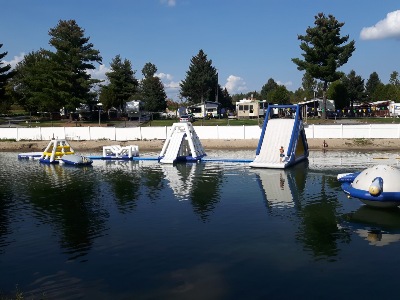 Here is a video from Summer 2018 of our inflatable structures from our local TV station: https://www.youtube.com/watch?v=MpUagfGUAaA

Diane and Eric, and their children Emilie and Jérémie, would like to welcome you to Maple View Campground. Our goal is to provide you with a getaway that you will be excited to call your summer home. We are located a short 30-minute drive East from Orleans. We offer an extra long season (from May 1st to October 14th 2018) so you can relax and play for longer.

The campground is close to:

Rockland (5 minutes) with access to the Ottawa river including a boat launch
Orleans (30 minutes)
3 Golf Courses nearby (Hammond, Nation, and Outaouais)
Shopping (e.g., Wal-Mart, Canadian Tire, Giant Tiger)
Restaurants (many to choose from including take-out/delivery)
Ottawa river for fishing and boating
Calypso Water Park
Papanack zoo
As you will discover, we intend to provide a campground that offers you and your family not only a safe, clean, and family-oriented environment but also a place to which you will look forward to return. We will work hard to ensure that you will have a great time every time.


Browse through our website to get a taste of what Maple View Campground can offer you.

We are looking forward to share our dream with you.


Diane and Eric


1207 Landry Road, Clarence-Rockland, Ontario, K0A 1N0